The Fishermans Chip Shop
Sample Britain's national dish at its very best.
Whether it's your first visit to Conwy or one of many, there are certain activities you feel are mandatory, yet infinitely pleasurable nevertheless. One is to stroll on the Quay and marvel at North Wale's very own Monaco harbour. While on the quay, you have to have a look at the smallest house in Gt. Britain, (please don't ask if she sleeps in the bedroom upstairs) and naturally, you must pop into the Liverpool Arms, one of this writers favourite pubs.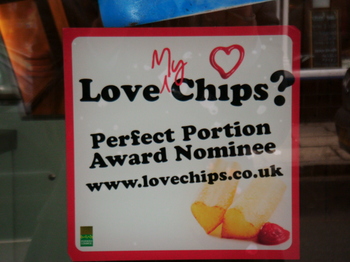 However, one of the most favourite activities just has to be a visit to the Fisherman's Chip Shop. You can utilise the takeaway at the rear of the shop and eat Fish and Chips on the quay. (Just think swinging sixties, look for the red 'phone box and you're there). Or for more luxury and the more sedentary, walk under the arch, turn left at the lights and once again, you're there.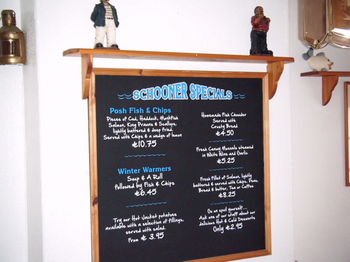 Located in the town centre of Conwy, it has been owned by Peter and Tracy Nolan and their son Chris for 27 years and has a great reputation in the area. Popular with locals and visitors, they are kept extremely busy all year round. If you want to sample Britain's national dish at its very best, a visit to The Fisherman's Chip Shop is highly recommended.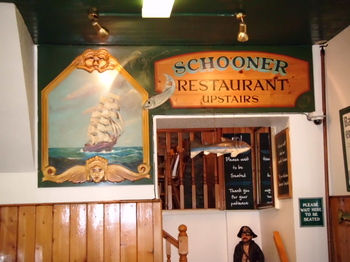 When you first visit the Fisherman's Chip Shop it is like your first visit to the Tardis! This is because the size of the shop front is deceptive and doesn't prepare you for the delights inside. The kitchens are clean, bright, modern and visible to all and the menus are straight forward and great value for money. The restaurant is comprised of three floors and seats more than 50 diners and there is easy access for disabled customers.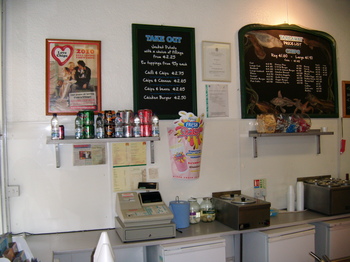 Naturally we offer a takeaway service as well as a sit-down restaurant and there are plenty of dishes from our extensive menu for customers to choose from. These include a wide selection of fish dishes, burgers (including a veggie burger), chicken dishes and many daily specials, all at value for money prices.
In season, mussels are also added to the menu, which does include local produce.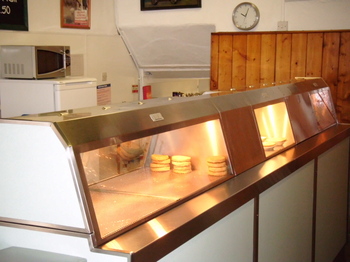 Ever-growing in popularity, the Fisherman's Chip Shop is open every day during the summer season from 11.30am to 9pm.
In winter, it is open 11.30am to 2.30pm and 5.30pm to 8pm.

Please note that payment is by cash or cheque only.
Popular with locals and visitors, we are kept busy all year round.
The Fishermans Chip Shop Statistics: 51 click throughs, 2522 views since start of 2023
Eat
Fast Food

in

Conwy

,

Conwy North Wales
Opening Times

Summer opening hours: 11.30am to 9pm.
Winter :
Daytime: 11.30am to 2.30pm
Evening: 5.30pm to 8pm.

Contact Details

The Fishermans Chip Shop

Owner/Manager: Mr Chris Nolan

Castle Street,

Conwy

Conwy

LL32 8AY

UK.

Our Website

News & Special Offers

Ask about our Loyalty card that allows regulars 10% off our Fish & Chips.

Coach Parties welcome with advance notice.